Coal Water Slurry Fuel (CWSF)
Coal water slurry fuel, or CWSF, is a viscous, heavy liquid fuel that is produced by mixing grounded coal, water and chemical additives. CWSF can be stored, pumped and burned as a substitute for oil or gas in properly modified furnaces or boilers.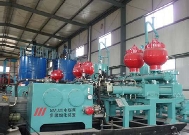 CWSF burns cleaner than coal, and is free of coal dust or the danger of spontaneous combustion and has a combustion thermal efficiency similar to oil or gas.